2014- SOLO WORK
The 2014 Competition was a special competition open exclusively to female composers for a solo work. The BCMCC collaborated with the Meg Quigley Vivaldi Competition in this year. The winning work is required for the 2016 MQVC, a competition for young women bassoonists in the Americas. mqvc.org
WINNER: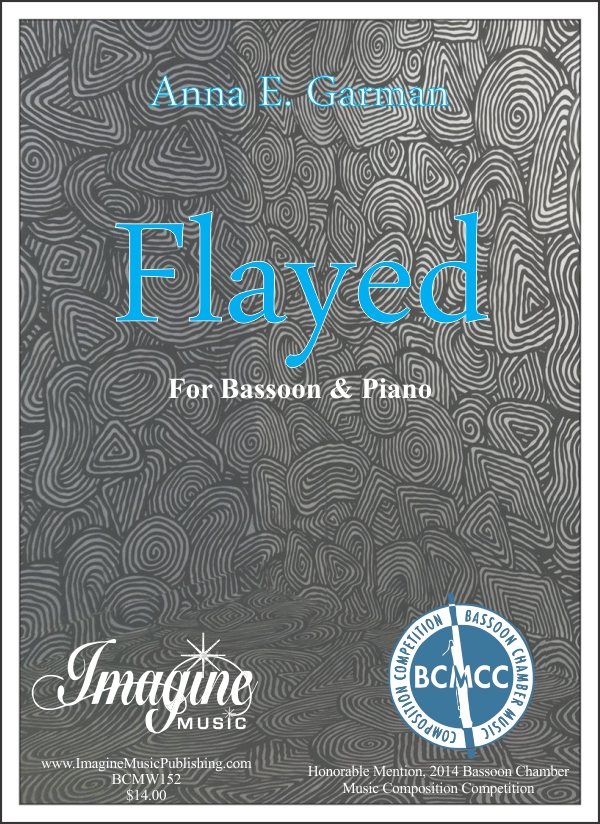 Jenni Brandon- Colored Stones for solo bassoon
World Premiere at the New Music Festival at Bowling Green State University, Ohio. October 16, 2014.

Music published by Imagine Music Publishing

Colored Stones is a required work for the 2016 Meg Quigley Vivaldi Competition

The CD entitled Elements featuring Colored Stones and the 2012 BCMCC Winning Works was released on MSR Classics in January 2015.
There were so many wonderful entries that honorable mention goes to: Anna Garman- Flayed for bassoon and piano
Click the pictures below to purchase sheet music or the CD!
About the Winners:
JENNI BRANDON is an award-winning composer whose music has been commissioned, recorded and performed around the world by ensembles such as the Yale Glee Club, The Singers-Minnesota Choral Artists, Vox Femina, Sundance Trio and Voices of Ascension. Brandon's awards include the Women Composers Festival of Hartford International Composition Competition, American Prize for Choral Composition and Sorel Medallion. Also active as a conductor and mezzo-soprano, Brandon makes regular guest appearances around the nation. Her CD entitled Songs of California: Music for Winds and Piano was nominated for the 10th Independent Music Awards. Brandon received her bachelor's degree in Composition from West Chester University, master's degree in Composition from University of Texas at Austin and graduate work at the University of Southern California. www.jennibrandon.com
COLORED STONES for Solo Bassoon
Colored Stones tells the story of three stones: Smoky Quartz, Lapis Lazuli and Tiger's Eye. In some cultures and spiritual practices, stones are believed to have powerful qualities such as the ability to heal, protect and offer spiritual guidance. There are many stones, but these three are particularly beautiful and the bassoon explores their unique stories regarding their healing and supportive qualities.
I. Smoky Quartz: Incredibly grounding, this smoky brown stone is used to transform and diffuse negative energy. In the first movement, the music shifts between grounding and playful, exploring this balance of energy, and always coming back to the grounding quality of the stone.
II. Lapis Lazuli: This deep blue stone has been used by kings and queens throughout the ages, and was prized for its color in paintings and ceremonial robes. It is even found in the sarcophagus of King Tutankhamen. The stone is said to help foster truthful communication. It also helps the immune system and thyroid, can relieve headaches, and fevers and pain. In the second movement, the luxurious blue shines and flecks of gold coloring flashes and mixes with the deep blue.
III. Tiger's Eye: A golden-brown to deep-red stone, Tiger's Eye is considered to be very grounding, and effective in bringing luck and warding off evil. In the third and final movement, the stone is "protective and seeing," moving quickly to remove the look of the evil eye, and at times moving dreamily through an ancient landscape of protective energy.
ANNA GARMAN was born June 18, 1990 in Rolla, Missouri. At the age of 9 she moved to Austin, Texas and began studying music as a bassoonist at the age of 11. Through the influence of private lessons teachers and band directors, she began dabbling in composition as she entered high school. With support from her director she had her first public performance in December of 2007.
Garman graduated from the University of North Texas summa cum laude with a B.M. in Composition in 2011, where she studied with Joelle Wallach and Joseph Klein among others. While at UNT she received a Presser scholar nomination, was a Concerto Competition finalist in composition, and was named Most Outstanding Undergraduate Composer. In addition to composition, she studied bassoon with Kathleen Reynolds, performed with various ensembles at UNT, worked for two years as a Supplemental Instruction Leader in music theory, and was a board member and officer of the UNT Composer's Forum. She graduated with a Master of Music in Composition from the University of Louisville in 2014 after receiving the two-year Bomhard Fellowship. During her time at U of L she studied with Steve Rouse and completed her thesis, Fearfully, Wonderfully. She also received a Dean's Citation Award, and Cracked Brick was recorded on AVIDduo's "Interactions" CD. Her trombone solo Dandelion was selected for the Collevoxus concert at the Fort Worth Museum of Modern Art, and Flayed received honorable mention from the 2014 BCMCC Competition.
Garman currently resides in Corinth, Texas with her husband Michael. In her spare time she enjoys playing tennis, disk golf, baseball, football, and Settlers of Catan. www.annaegarman.com
2014 Judges
Gina Cuffari, bassoonist, New York University-Steinhardt
Laura Koepke, bassoonist, Fredonia State University of New York
Nicolasa Kuster, bassoonist, University of the Pacific
Kathleen Reynolds, bassoonist, University of North Texas
Keith Sweger, bassoonist, Ball State University
Eric Van der Veer Varner, bassoonist, Lynn Conservatory, BCMCC Board Member